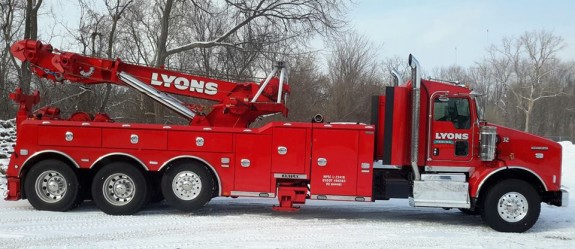 At Lyons Towing, we understand the frustrations that often accompany needing a tow company and we make it our business to bring you expeditious service at prices you can afford. Don't rely on the other guys when you can trust the best at Lyons Towing.
When you need light duty towing or heavy duty towing in Southeast Michigan, don't just choose any number out of the phone book. Other companies can overcharge you and fail to provide prompt, timely service that we've become known for in the area. Our services include:
Towing: Whether you need a small car towed or large, heavy commercial machinery, Lyons Towing is your company. We have the experience and expertise to provide the safest tows at reasonable prices. With an eye always on expedience, we will respond to you quickly, provide prompt towing and get you on your way. Call us when you need heavy duty towing and light duty towing in Southeast Michigan.
Transportation: It can be difficult to find a reliable company to haul heavy machinery with the equipment to get the job done right. At Lyons Towing, we have the very best in equipment so we can assist you in transporting even the most cumbersome, heavy machines, including construction equipment, manlifts, frac tanks, oil field equipment and more. Your equipment will be in good hands with us.
Recovery: Whether you need light or heavy-duty machine recovery, we can help. Our top quality equipment and skilled workers can recover any type of vehicle.
Load transfers: We are equipped to respond to and handle load transfers of different types. Our workers are experienced in handling all types of transfers and can provide quick and careful service.
Propane filling: Michigan winters can be brutal and there is nothing worse than running out of propane. At Lyons Towing, we have the equipment and know-how to offer convenient and affordable propane refills when you need them the most.
For all your towing, recovery and transportation needs, call Lyons Towing today at 734-676-6333 and find out why we are the most reliable name in the business.